Connie Hozvicka of
Dirty Footprints Studio
gave me an introduction to art journaling last year through an online workshop. This year, she is celebrating the one year anniversary of her workshop launch by having a giveaway for anyone who creates an art journal page about LOVE. How perfect, I thought, for a month in which I am focusing on loving myself!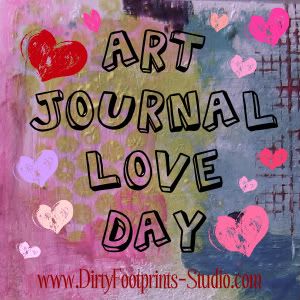 Creating an art journal page takes a lot of self love. Self expression through art is a scary process. Sometimes it involves losing control and diving in to disorder. Sometimes I discover things about myself that I didn't really want to know. Sometimes (ok, most of the time!) I make mistakes, and I have to be willing to forgive myself and push forward.
Creating, to me, is like opening up my chest and spilling my raw self on to a piece of paper. It is coming out of hiding. It is scary, yet exhilarating. And in the end in is like giving myself a giant hug. It allows me to connect with the real me and to learn to accept that part of myself.
With that in mind, here is what I created in honor of loving myself:
It's messy and it looks much different from what I originally planned, but that's okay because it truly reflects who I am.
My hopes for all of this focus on self love is that I can learn to accept myself the same way that I accepted this collage.